The Oklahoma Vegetation Management Association host 2 conferences every year to provide training and an opportunity for continued education for both herbicide applicators and arborist. Agendas are submitted to both the Oklahoma Department of Agriculture, Food & Forestry and ISA for approval. The spring conference is scheduled in March of each year whereas the Fall Conference, Trade Show and Training is scheduled in October.
In addition to providing continued education opportunities, OKVMA sponsors a review session with OSU Extension Service providing the training the day before the general session meeting for those wanting assistance with obtaining their Oklahoma Commercial Applicator Certification. The review session will cost $15 to cover the Core Manual. See the Registration Form to secure your spot. Please note that OKVMA will no longer host a exam session as ODAFF are in the process of implementing an on-line test program.  Details will be available at the conference. OKVMA hosts a test site for ISA certification as well.
MARK YOUR CALENDARS – – the FALL OKVMA Conference has been confirmed!
FALL 2021 Conference (pdf)
October 5, 6, 7, 2021
@ the Hard Rock in Catoosa, OK.
This year's conference will be different from year's past. COVID has definitely forced us to look outside of the box in our planning of this conference. We will offer two (2) 1-day trainings.  We will be hosting a Test Help/ Review Session for applicators on Tues (10/05) to help prepare for applicator exams.  You will be able to register for the Applicator Study Session the registration link below. 
                                                     ***NOTE: ISA EXAM HAS BEEN CANCELLED***
The training agenda for continued education credits will be the same for General Session I (Wed 10/06) and General Session II (Thur 10/07). Attendees will have the opportunity to choose which session they want to attend.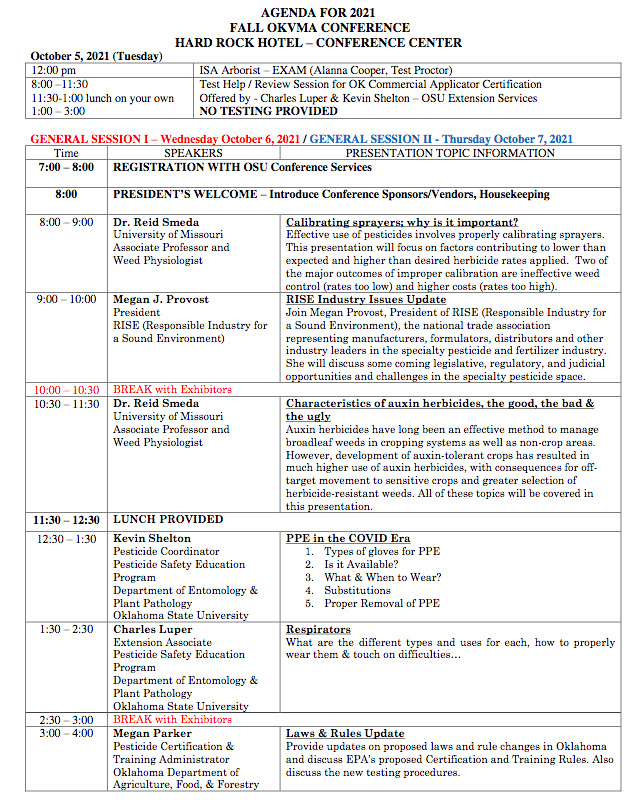 (Click on Agenda above for printable pdf)
Registration is open between AUGUST 10, 2021 – SEPTEMBER 13, 2021 / fees increase after 09/13/21 so be sure to register early.
Click on Agriculture Conferences Services / Then click on OKVMA to access your registration information

**************************************************************************************************************************************************************************************
***Hotel Reservations open at the Hard Rock Hotel!!
Be sure to follow Hard Rock Hotel PO Guidelines if using a purchase order for your reservation *
Hard Rock Hotel 777 W Cherokee, Catoosa, OK 74015       
For Reservations: 1-800-760-6700      Room Block: OKVMA – Rate: $96 + taxes
**************************************************************************************************************************************************************************************
Continued Education Awards have been requested from OK Dept of Ag, Food & Forestry, TCIA & ISA
ODAFF CEU AWARDS: (6) Cat 10-Demo & Research / (6) Cat 3a-Orn. & Turf / (5) Cat 5-Aquatic / (6) Cat 6-Right-of-way / (4) Cat A-Aerial / (3) Cat 1A-Agricultural
TCIA CEU AWARDS: (1) PPE in the COVID era OKVMA21-57 / (1) Respirators OKVMA21-58
ISA CEU AWARDS: (6) General Arborist / (2) BCMA-Science / (4) BCMA-Management
For more information contact:   Kathy Markham, OKVMA Secretary at 918-256-9302 or email okvma1991@gmail.com